All Customized Actions, Customized Entities, along with Navigation Properties created on D365 SCM setup will appear as part of the connector under the Entity package name as shown in the examples below:
SalesOrderHeaders is a System Entity. Inside the SalesOrderHeaders package (within Connector Project) resides all the CRUD Business Process operations such as PostSalesOrderHeaders.bps, GetSalesOrderHeaders.bps, GetSalesOrderHeadersById.bps,PatchSalesOrderHeaders.bps, DeleteSalesOrderHeaders.bps along with GetNavEntityDimensionSetOfSalesOrderHeader.bps and GetNavEntitySalesOrderLineOfSalesOrderHeader.bps which are Navigational Properties of SalesOrderHeaders.
Each Business Process has a corresponding request and response JSON Schema that can be used as part of the data transformation.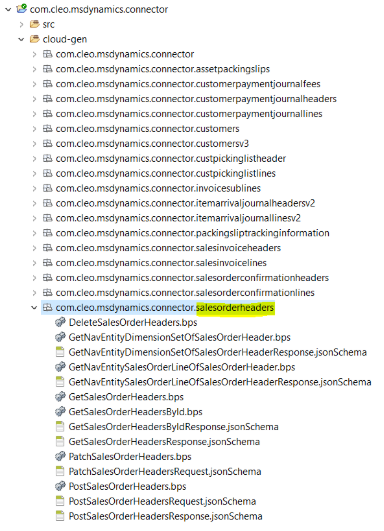 SalesOrderHeadersV4 is a customized Entity. Inside the SalesOrderHeadersV4 package (within Connector Project) resides all the CRUD operation Business Processes for the entities: PostSalesOrdersHeadersV4.bps, GetSalesOrdersHeadersV4.bps, DeleteSalesOrdersHeadersV4.bps, PatchSalesOrdersHeadersV4.bps along with ExecuteActionconfirmSalesOrderV4.bps, which is a customized Action created on SalesOrderHeadersV4 and GetNavEntityDIminsionSetOfSalesOrdersHeadersV4.bps which is one of the Navigational Properties of SalesOrdersHeadersV4.