Welcome to Cleo Integration Cloud - Cloud Edition !
Cleo Integration Cloud (CIC) is an integration platform for end-to-end B2B, application and data integration. It provides rich API and EDI capabilities in a single platform to give you the flexibility you need to connect with your entire ecosystem (customers, partners, service providers, back-end systems and cloud applications) in the way that best supports your business needs.
Cleo Integration Cloud connects you to your Ecosystem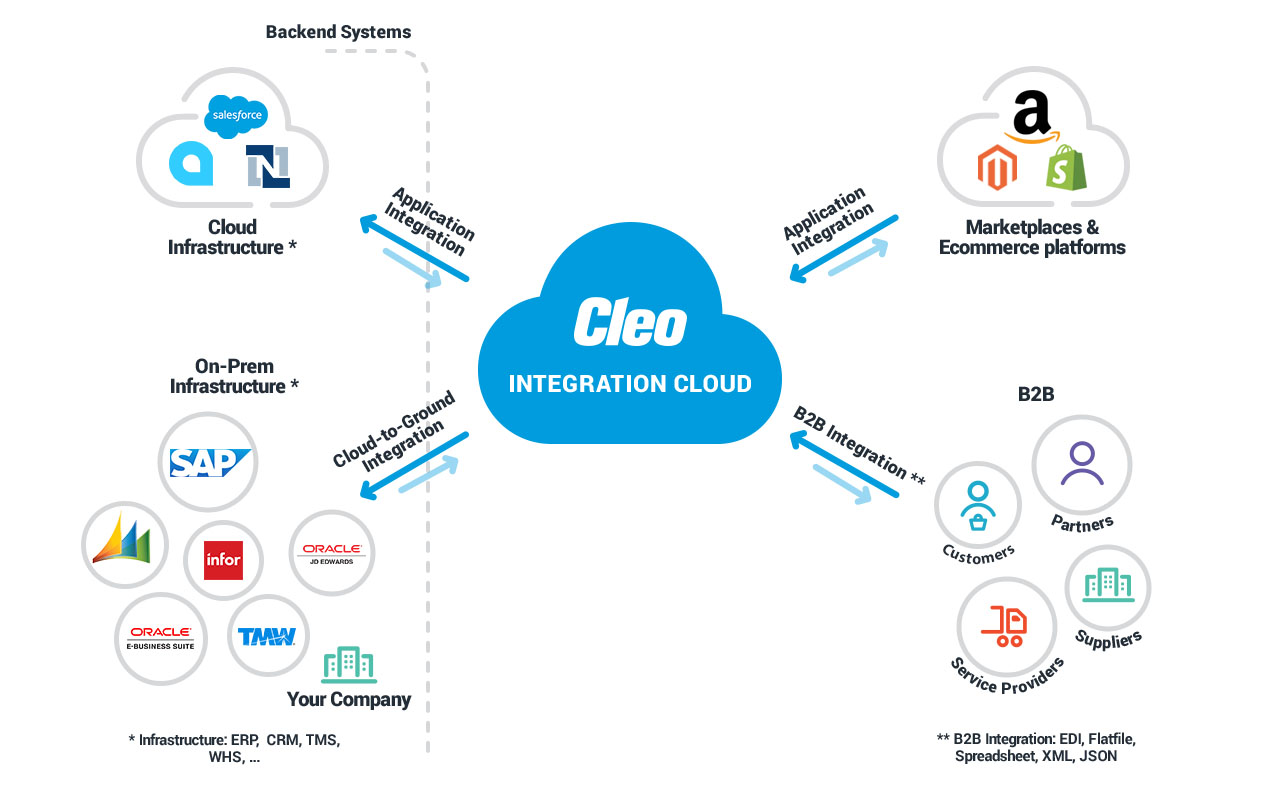 CIC provides you with a rich set of options for integrating your business with the ever-expanding, ever-changing ecosystem around you, including:
B2B integration: Integrate with your Customers, Partners, Suppliers, and Service Providers over API or over standard protocols: AS2, SFTP (client or server), FTPS (client or server), or email. CIC also provides a simple, low-tech option for smaller trading partners that can log into the web-based Cleo Portal to upload and download documents as needed for b2b integration. CIC supports the following payload formats: API (JSON) and EDI (X12, Tradacoms, EDIFACT), file (Flat file, spreadsheet, XML).
Marketplace & eCommerce Platform Integration: Additionally, you can use CIC's suite of connectors to connect to common cloud marketplaces and eCommerce platforms like Amazon Marketplace, Shopify, and Magento.
Flexible Backend Integration options: On your backend, whether you are integrating into an ERP, CRM, TMS, WHS, and/or Financial System(s), you have the option to integrate with on-premise applications using the CIC Agent or use CIC Connectors to cloud applications like Acumatica, Netsuite, and Salesforce.
Regardless of which vertical you are in, with CIC, you have the ability to exchange the documents and data you need to exchange with your business partners.
Sample Industry Examples
Wholesale
Manufacturing
Logistics
Documents

Planning Schedule (830), Request for Quotation (840), Warehouse Shipping Advice (945), Warehouse Receipt Advice (944), Invoice (810), ...

Purchase Order (850), PO Acknowledgement (855), Advance Shipment Notification (856), Planning Schedule with Release Capability (830), Invoice (810), ...

Load Tender (204), Response to Load Tenders (990), Shipment Status Message (214), Freight Details & Invoice (210), ...
Protocols
AS2, SFTP (client/server), FTP (client/server), Web Portal
Formats
API (JSON) , EDI (X12, Tradacoms, EDIFACT), Flat file, Spreadsheet, XML
Cleo Integration Cloud has a Cloud Edition (for use as a service in the cloud), as well as a Private Cloud Edition (for installation and use in your own data centers or private cloud). Regardless of which edition you use, you can benefit from the valuable outcomes of CIC as described above. End-to-end integrations and monitoring capabilities are optimized for common business processes such as order-to-cash, procure-to-pay, and load tenders.
For the Cloud Edition, you can choose to leverage Cleo's Managed Services offering to build and operate your integrations for you or you can choose to build and manage them yourself in a self-service capacity. Some customers also choose to have a professional service engagement up front, to help with the initial deployment, and then choose to manage it themselves after that.
Suggested reading: How Integrations Work in CIC Cloud Edition