CIC Cockpit provides visibility across your system from end to end, including:
Centralized and real-time visibility to help you optimize business operations and fine-tune supply chain performance.
Actionable insights that enable you to address errors, inform stakeholders, collaborate with partners to increase transparency, improve customer experience, and protect SLAs that lead to stronger operational margins.
Business-level insights designed to benefit users of all types within your organization and across your trading community. For instance, Customer Service reps can easily look up the status of an order or Finance can look up the status of an invoice themselves without having to contact technical specialists to look it up for them.
The CIC Cockpit comprises the following:
The Dashboard and Partner Activity pages, which provide insights into your business through graphical representations of business activity at a summary level. See Insights.
The Messages and Jobs pages, which provide transaction-level detail about your business activity down to the individual transaction. See Transaction Monitoring.
Insights
CIC Cockpit provides important, actionable insights into your business and your trading partner community by generating useful charts and graphs that summarize the data flowing through CIC.
The Dashboard page displays high-level summary views of total message volume, as well as volume by document type. It also provides insights into current issues in the system and their current resolution status. All charts have useful drill-downs that make it easy to see the individual transactions that make up a given summary view. See What is the CIC Dashboard?.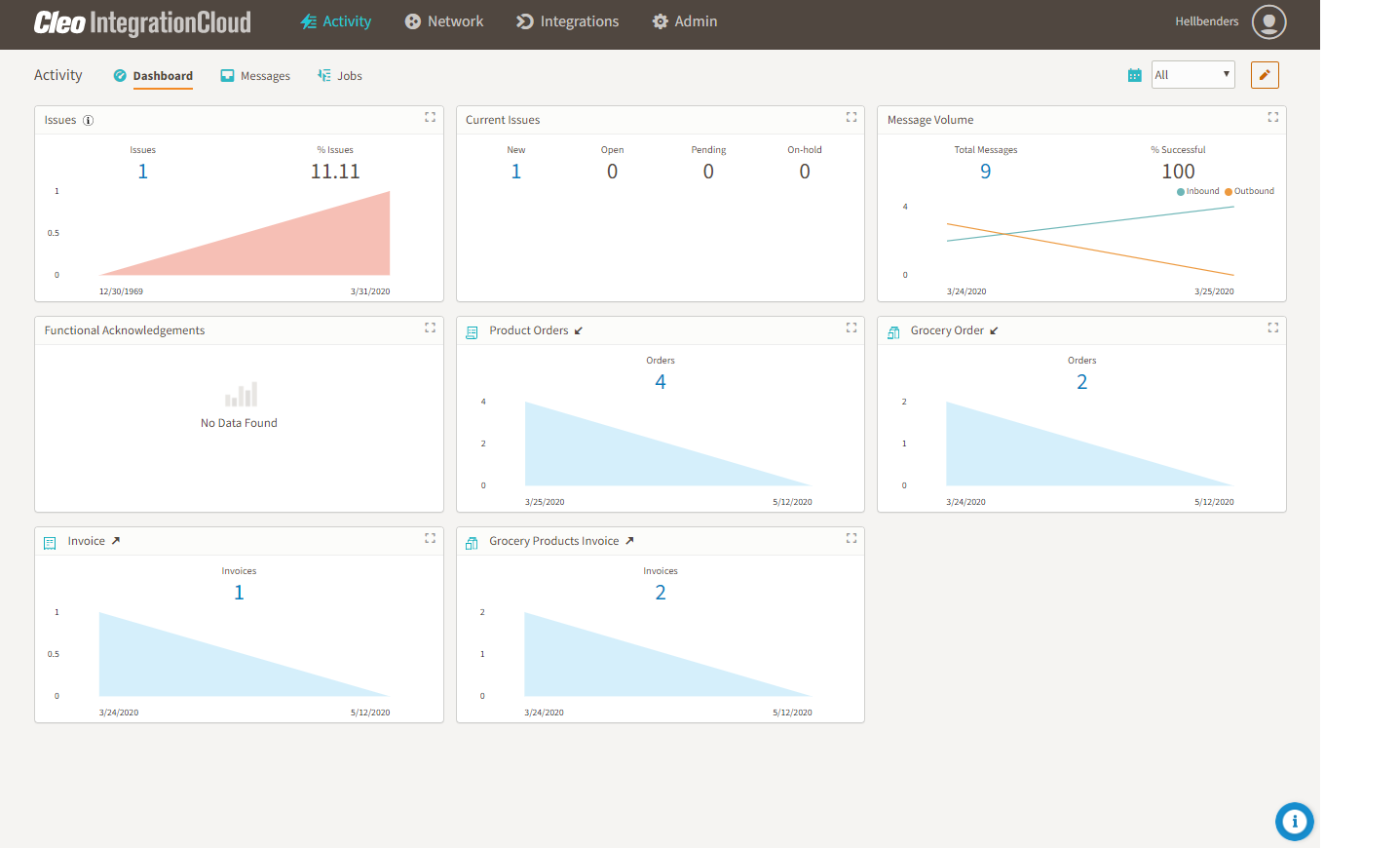 The Partner Activity page is designed to give you a high-level overview of your trading partner community by displaying one activity summary tile for each of your partners. Each tile includes the message volume, number of issues, and percentage of message volume and issues changed (in the currently selected time period vs the previous time period) for a given partner. This allows you to quickly see which of your partners have the highest volume or most errors, as well as to detect any emerging trends in terms of change in volume or issues. You can also click into each tile to get a dashboard view for that partner. See Viewing Partner Activity.
Personalizing and Customizing CIC Cockpit
You can personalize your Dashboard page to display only the charts and graphs you want to see. See Personalizing your Dashboard.
In addition, you can customize the CIC Cockpit to display the data you want to see. See Customizing the CIC Cockpit.
Transaction Monitoring
CIC Cockpit also provides visibility into the individual transactions running through CIC. You can view the details of individual messages such as Orders, Load Tenders, and Invoices, as well as the end-to-end steps of an integration, known as a Job. This allows you to track the flow of data from your trading partners, through CIC's Integration Engine and into your backend systems or cloud applications.
At the message level, CIC Cockpit can display data as message tiles or as a list of messages.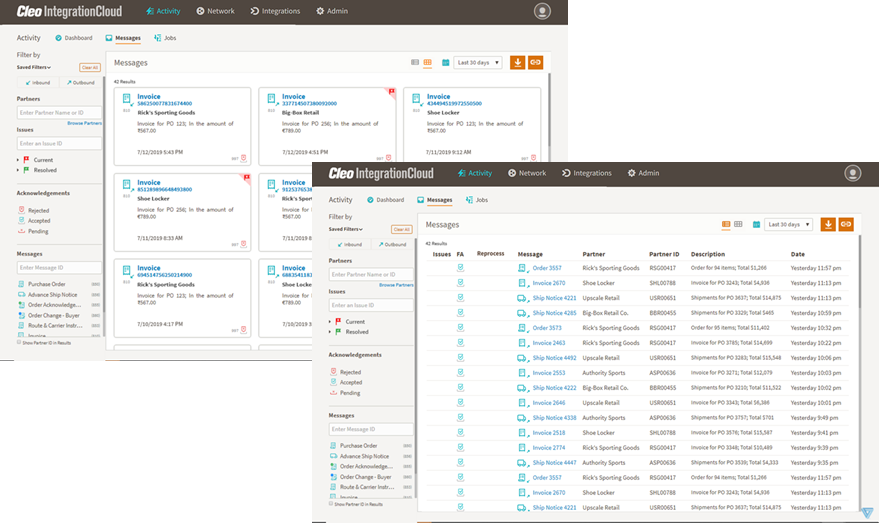 You can control which messages are displayed by applying filters on a wide variety of message attributes. When you select a single message, details about that message are displayed along with a list of related messages.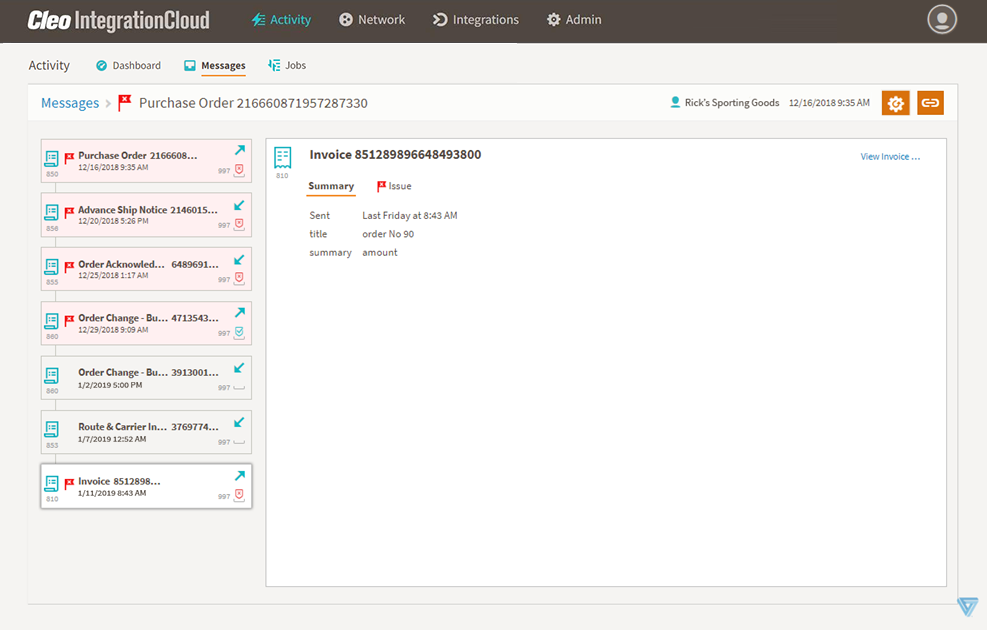 At the job level, CIC Cockpit displays a detailed list of the jobs in the system, where a job represents an instance of an integration you have run.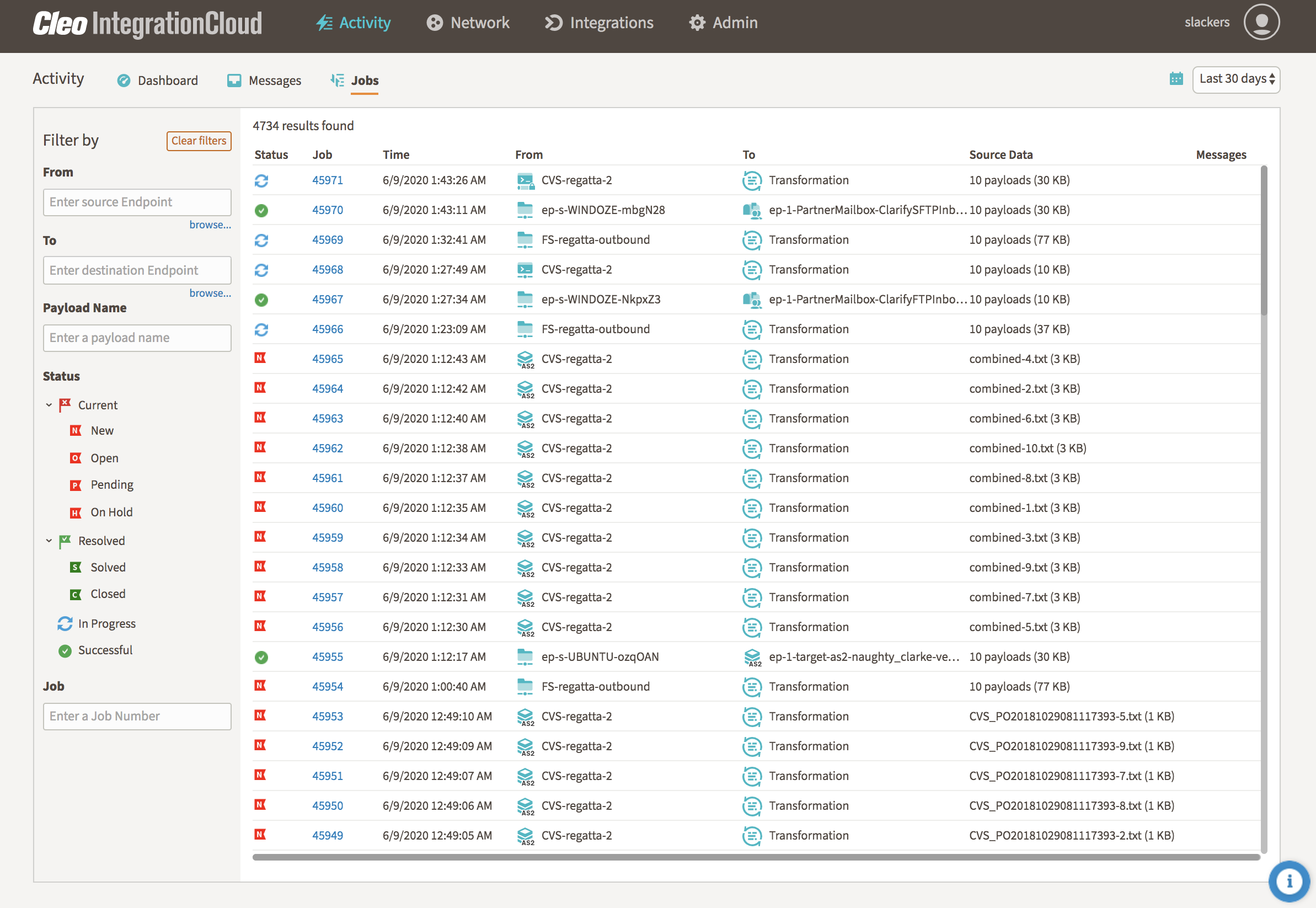 You can control which jobs are displayed by applying filters on a wide variety of job attributes. When you select a single job, CIC Cockpit displays details about that job, including payloads, log information, and a graphical representation of the job, its Endpoints, and its Data Flows.