The movement of your data spans logging systems between the Integration Engine and CIC Cockpit. For errors that occur during the transformation step of a Job, you may need more information to troubleshoot the issue than will be available to you in the Job Detail view. To help with this, we provide the Connection Number that will allow you to get more detailed logs in the CIC Studio Auditor (part of the Admin Console).

The Connection Number is used to identify the connection made into (or out of) the integration engine for a particular job. Each step in a job will generally have a unique Connection Number. The integration server's Connection Number is stamped in the CIC Job log, shown below. This will allow you to follow the data across both logging systems (Auditor and Cockpit).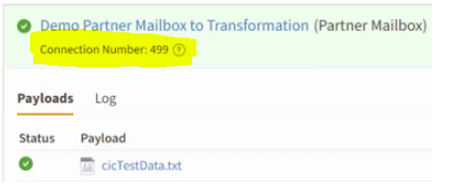 From the CIC Studio Auditor
To see detailed logs for these connections, go to CIC Studio and search in the Auditor using that Connection Number. Select Connection as the Log Type. This is shown below.

CIC Job Logs displayed
In the Auditor's Properties view (shown below), you can also view properties as they pertain to CIC Job logs. These include:
Data Flow URL

Event ID

Event Name

Event Timestamp

Job URLs

File IDs

File Names

Endpoint URLs

Tip: use the JobUrl to quickly return to the CIC Cockpit directly from the Auditor.